These brightly colored gems started off in the desert for an In the Field photo shoot. Wedged in the crack of a large boulder in Joshua Tree, the Rock Candy pieces glowed with color contrasting against the smooth natural rock formations. They appear to belong to the space and yet to be completely foreign all at the same time.


The pieces were originally inspired by my time climbing the walls at the rock gym. Brightly colored plastic hand and foot holds scattered across the walls in seemingly random patterns, but are composed into routes that provide unique challenges for the climber. The Rock Candy River was installed on the gym walls as a temporary installation. The curving movement of the form is contrasted by the angular formations of the ceramic rocks while mimicking the bright colors of the climbing holds on the walls.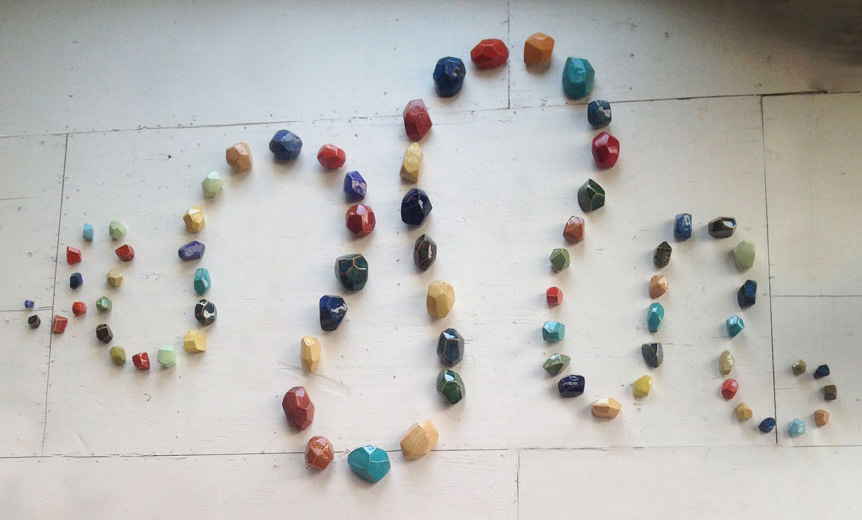 Finally the Rock Candy pieces were transformed once more into small wall sculptures that bring the inspiration of nature into your home. Carefully selected driftwood pieces combined with the ceramic rock forms find where art & nature truly meet. These pieces are designed to be wall mounted but they can also be placed on a flat surface as a unique table centerpiece. The organic design of these pieces allow them to fit into small spaces while still creating an impact making them versatile for any home. There are only five pieces left in this series, priced at $125 each, they make a perfect gift for the climber, rock collector or nature lover in your life.