When you work in parts to make multipart installations, it's easy for things to get mixed up. Whether it's in the kiln or in the glazing process, it's very easy to confuse yourself on where you planned for everything to go. This is especially true when you are doing an installation in a gallery space, a time when you want to be organized and intentional with your work. This is especially hard when you've never installed the piece in its entirety yet. This uncertainty is also what I love about installations, a sort of do or die moment when you may have to improvise to make it all happen the way you want.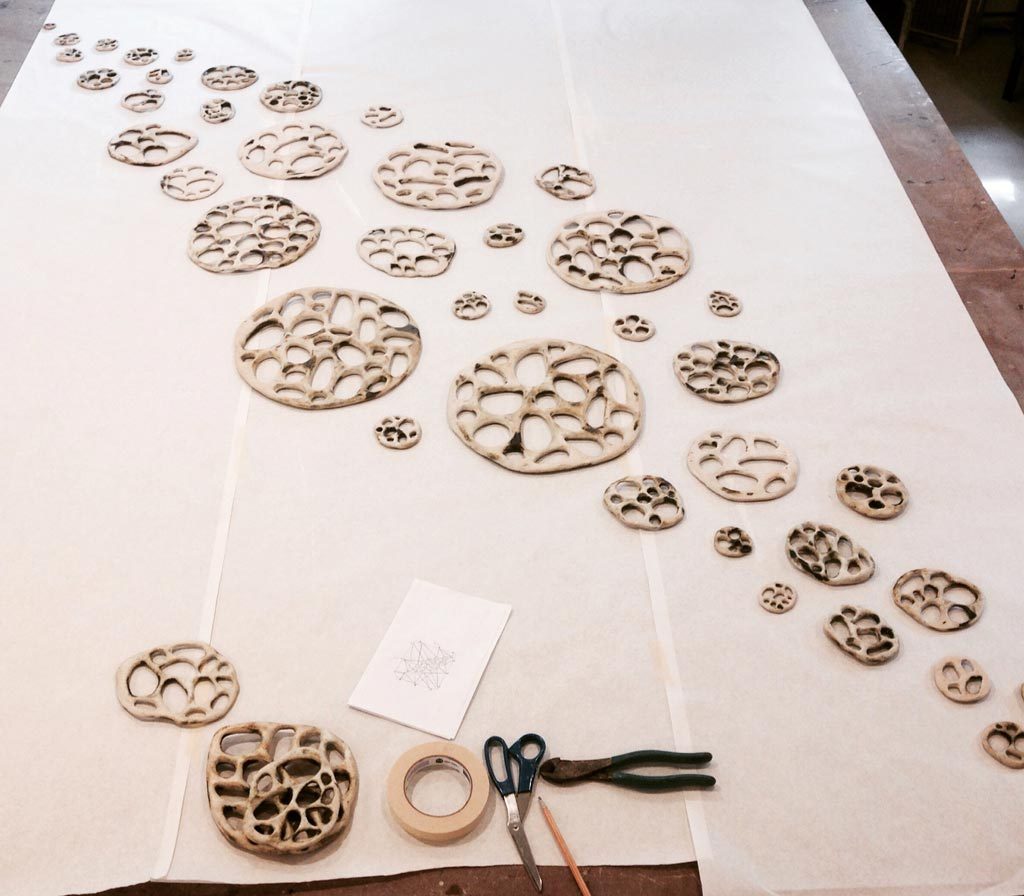 Here's a glimpse into how I keep things organized. I am a huge fan of the paper template. I plan out everything on a very large piece of paper and usually do as much layout as I can on the floor in my studio. Once I'm happy with the layout, then I decide which pieces go where. Each piece is identified by a number that corresponds to it's spot on the paper template.
When I get to the space, the paper template gets hung up first. This is a really simple way for me to envision how the piece will actually work in the space and it's easy to move around if I decide that the original plan doesn't work. Once I'm happy with the placement, then I start attaching the hardware, usually screws or hooks that will hold the pieces to the structure. I remove the paper template as I start attaching the pieces.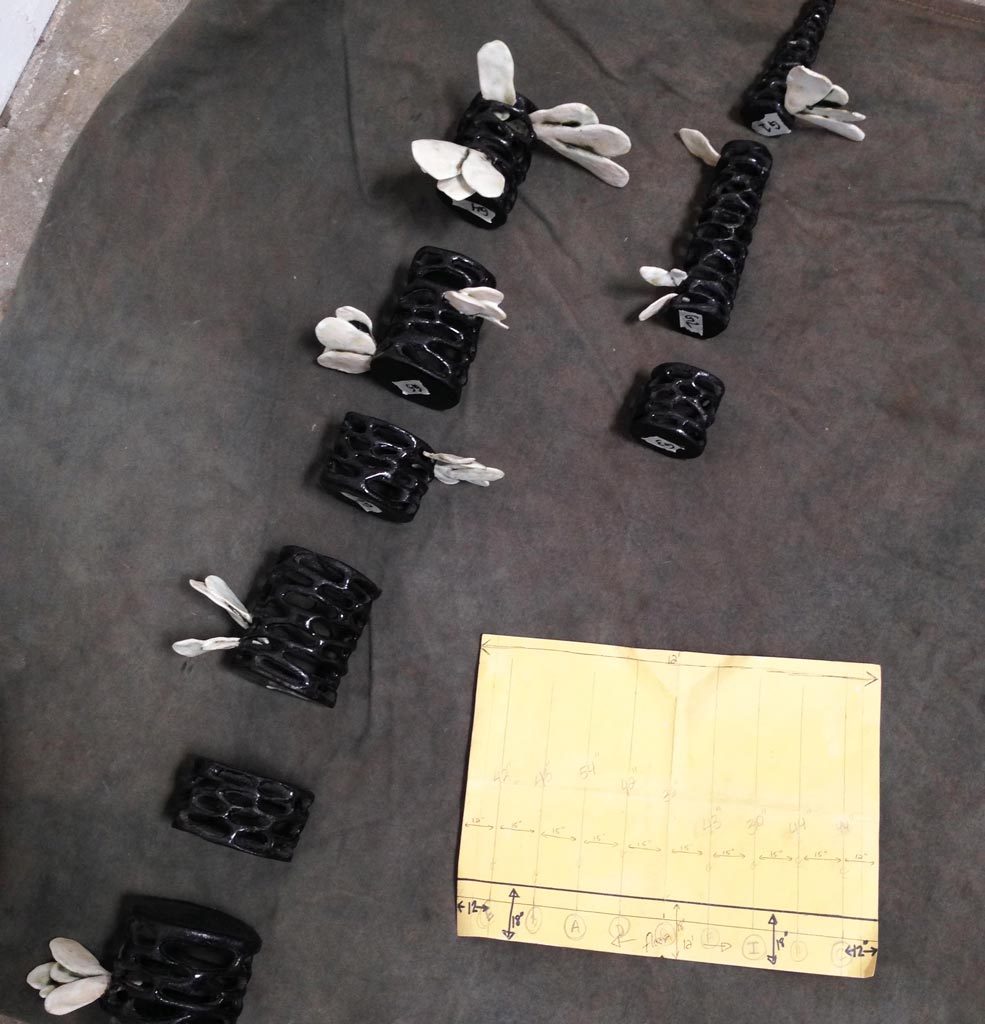 In the case of having multiple parts in a multi piece installation, as in my Lichen Series or Vine Series, then I use a layout map with measurements of each of the pieces, so that they are composed to interact with each other while still holding their own in the space they occupy. This is especially important to keep the flow of a piece visually stimulating, again, I usually do as much layout as I can on my studio floor before making final decisions on the layout.
The Lichen Series has 9 stalks each with 9 parts to it, it can get a little confusing, so each piece is labeled and boxed to correspond to the map. The Vine Series has 9 vines total each with 36 parts and as similar as they are, the parts are not interchangeable between each vine so it's important that everything stays organized.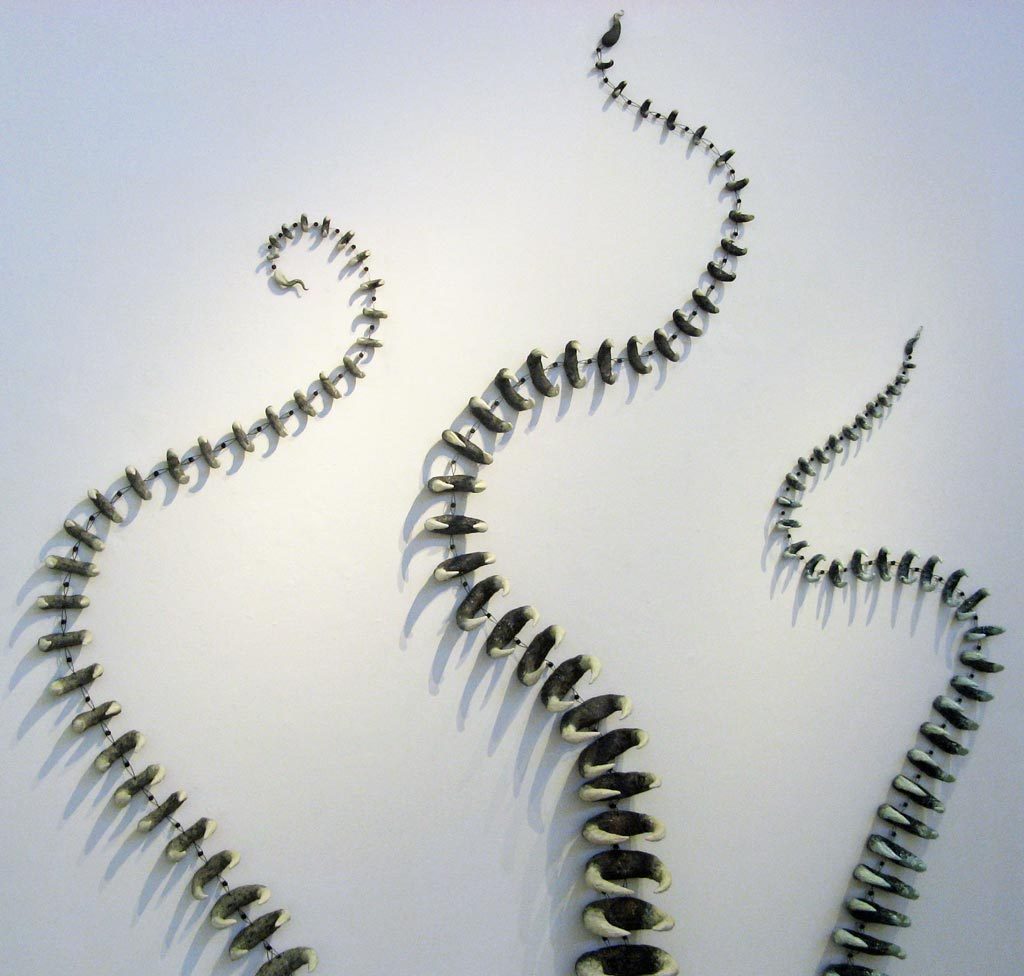 I also find that this is a really helpful system if you are not the one installing your own art. I try to imagine the handling team at a gallery or museum unpacking my art and seeing it for the first time in person. Putting yourself in their shoes makes you pay attention to the details that come as second nature to the artist. Explaining and labeling are the keys to making sure your art shines. I'm sure that other artists have different ways of planning out a multipart installation which I'd love to hear about, so please share if you've got a great system!