Did you notice there were no blog posts on 'the dirt' last week?? What?!?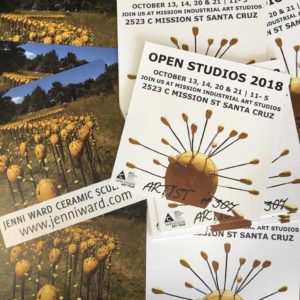 Well, with the big news that we ARE allowed to have Open Studios in our studios at Mission Industrial this year, I got super busy getting the studio ready. If you're not sure what I'm talking about, you can read more here and here. I know it seems a little early, but by the time I come back from my Iceland residency, I will have about 6 days before Open Studios, so I'm going to just have the studio ready to go!
This year I will have a ton of work on display- new work, old work and I'm including photos of my outdoor installations. There are some series (like the Nest series) that only have a few pieces left – so this is the last chance to add them to your collection! Plus I will have some seconds for sale at super low prices and Art Hearts will be available too!
So please join me October 13, 14, 20 & 21st from 11 – 5 at 2523 C Mission St Santa Cruz, artist #307 in the catalog!