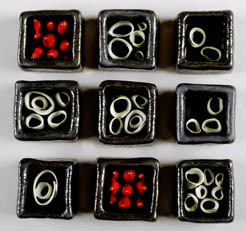 Group Art Exhibit
Pajaro Valley Arts Council Gallery
Jan 15th – Feb 16th, 2014
artists reception: Jan 19th, 2 – 4pm
Take-Away beautiful small works of art from over 50 of the county's top artists. I will be exhibiting work from my Specimen Series; arrangements of little clay compartments filled with organic ceramic shapes. Enjoy!
Learn more about the PVAC:
PVAC is located at 37 Sudden St, Watsonville
Gallery is open Wed – Sun 11 – 4
Free Admission!