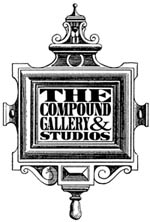 Jenni Ward has joined the Art in a Box team! The Compound Gallery is pleased to present ART IN A BOX, an art subscription service featuring Bay Area artists. Operating on the model of a CSA (Community Supported Agriculture) or wine subscription service, Art in a Box offers amazing original works of art instead of vegetables or wine.
Subscribing is simple, once you place your order, you will be sent a link to an online form where you can give us three adjectives to describe your art taste and tell us what media you like, and you will receive a carefully chosen piece of art YOU GET TO KEEP in your box each month of your subscription!
Subscribers can choose how often to receive boxes (every month, every other month, quarterly, etc.) Subscribers receive a new work of fine art by a different local artist in each box. Our featured artistswork in a variety of mediums (ceramic, printmaking, painting, collage, digital prints, etc.) and most of them live and work in Oakland or San Francisco.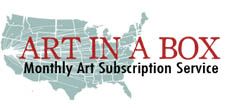 Subscribers can indicate a preference in mediums, but not the artist or piece. All artwork is contained in an 11″ x 17″ x 3″ box along with the artist's bio. Subscriptions are $40/month for pick up only, and $50/month which includes shipping (there is a minimum three month subscription). We currently have subscribers in all parts of the U.S.—from Oakland to Brooklyn. Art in a Box allows subscribers to receive high quality works worth much more than the subscription cost, gives local artists national exposure, and helps to support the arts and artists in the Bay Area.