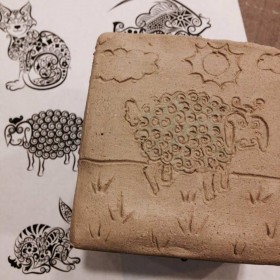 Summer Sculpting Workshops launched this Monday at the studio with fun clay projects and new techniques. Students ages 7 and up made pinch pot pools for their coil built flamingos and we used an ink transfer technique to get cute animal images onto our slab built boxes. While our clay projects dry and get ready for the kiln, we'll be busy working with paper mache, wire, weaving projects and more!
A few spaces are still available for young creative artists…
Join Summer Sculpting Workshops for Kids
B CR8IV!!!