I was so fortunate to have many pieces of art find new happy homes during Open Studios Art Tour this year. Thank you so much to all of you who put your money where you mouth is and supported your local artists!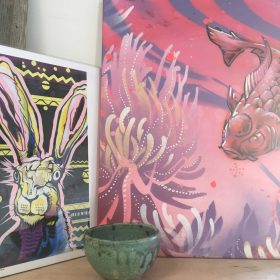 When you are a participating artist in the tour it's really hard to make your way around to see other artists studios but this year, my husband and I were able to sneak in a few studio visits one afternoon. While we don't have the biggest budget to buy art, let alone the space to put it in, we also believe in supporting local artists. So many people think that art is out of their price range so I wanted to share the gems that we bought, all for under $200. Seriously. Under $200.
The koi fish and coral original painting was done by muralist Elijah Pfotenhauer, the rabbit print was done by muralist Taylor Reinhold and the small bowl was done by ceramic artist Liz Crain. I love the color and energy that each of these pieces add to my collection of local and global artists.
What did you collect this year at Open Studios?