After a whopping 750+ people walked through my studio this weekend for the Open Studios Art Tour the most common phrase I heard when they were looking at my classroom area was, "I haven't touched clay since I was in school. I want to try that again."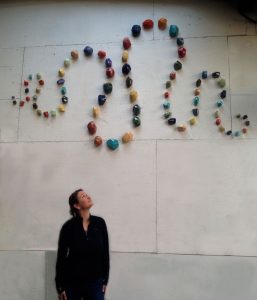 I started rock climbing about 5 years ago with a Climbing 101 class at the local rock gym. I'd wanted to do it my whole life, so I thought I'd give it a try. I wanted to see if it would scare me or challenge me- it did both and I love it. Now, it's a part of my weekly schedule. I've built friendships and community from it, and I even created an installation from my Rock Candy Series at the gym.
We are much more likely to sign up our kids or give the gift of a class to someone else than we are to sign ourselves up for something we enjoy. Why do we deny ourselves these things as adults?
So, if you haven't touched clay since you were young and you want to try it again, now is the time. I promise it will challenge you, you will make friends and it's so much fun to get your hands dirty! Here's the info…