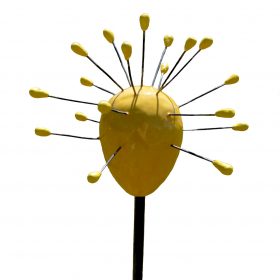 THANK YOU to everyone who came out to the opening of Environmental Installations at the UCSC Arboretum this past Saturday- it was really so fantastic to see the whole exhibit come together and to chat with everyone. I loved seeing patrons walk the path of my Umbel Series Installation. If you haven't been to the exhibit yet, be sure to get out there, this show is up until November 17th.
If you would like some Umbel Flowers for your own garden, they are available for pre-sale in the online shop! You can order as many as you would like and you will be invited to the Arboretum towards the end of the exhibit for a 'picking day' where you can choose the umbel flowers you love and transplant them into your own garden. The picking day will be just before the holiday season starts so you can get flowers for yourself or others!
Umbels are only $65 each and every flower is handmade and unique.
Be sure to add a steel stem (no additional cost) to your shopping cart as well when ordering and to choose 'local pick up' to avoid shipping charges. If you are out of the area, you can still order flowers with or without the steel stem and they will be shipped to you after the exhibit closes.