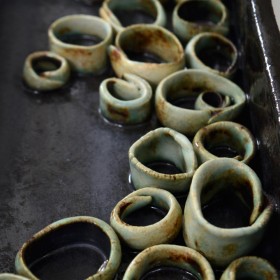 Remember collecting shells on the beach as a kid?
You would collect hundreds but have to whittle down your collection to a few special ones because your parents wouldn't let you bring the whole beach home with you. So you'd get home with your prized finds and keep them in some kind of box or container that would showcase them but also keep them safe.
They would always be a reminder of the day, the quiet focus, the search and the excitement of finding something special.
The Specimen Series is inspired by the memory of those finds, unique pieces organized and boxed for display. The online shop has 15 pieces from the Specimen Series that are looking for a new home and these bento box style works are small enough to fit in nearly any space.