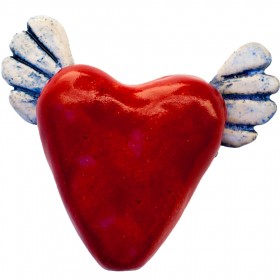 You really don't need to wait for Valentine's Day to give an Art Heart to the ones that you love! But February 14th is just around the corner and ceramic art hearts are the perfect gift for the loves in your life.
Each one is hand-made and uniquely designed by sculptor Jenni Ward and available as an ornament or on a stick. As each heart is individually designed, we will select a style or a bouquet of styles for you when you order. Special requests or color preferences are always welcome but they may take longer to ship depending on our stock.
A portion of all art hearts sales benefit philanthropic arts projects, click the link to learn more and thank you for your support!