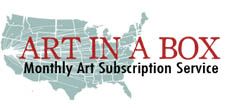 How about a unique piece of art landing in your mailbox every month? Ever join a wine of the month club? This is sort of the same thing, except that you get a piece of amazing art from a California artist every month and I'm one of the artists you can get art from!
Operating on the model of a CSA (Community Supported Agriculture) or wine subscription service, Art in a Box offers amazing original works of art instead of vegetables or wine. The ART IN A BOX subscription service runs out of The Compound Gallery in Oakland CA , you can click the link for details and how to sign up. Lena & Matt Reynoso are the husband and wife team behind this endeavor and all of the amazing projects they have going on at the gallery. If you're a Bay Area local, be sure to check them out for art openings and events- they will not disappoint! They pride themselves on their excellent reputation, attentive customer service, and high quality of collectible artwork by cutting edge artists. I'm so proud to be included in this group of artists!
ART IS GOOD FOR YOU!