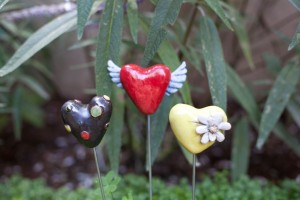 I've been making these cute decorative art hearts for years now and I can't seem to stop. They don't have anything to do with the work that I'm making for installations but they are fun and colorful and it's always nice to have something a little different to play with in the studio.
They are available on sticks and look great going in a plant or as a bouquet of hearts or they are also available as an ornament. There are a huge variety of styles as each one is unique. You can request a color or style and I will do my best to give you one I think you'll love!
The best part about buying art hearts is that all sales of art hearts benefit the philanthropic arts projects, click the link to learn more and thank you for your support! Buy your Art Hearts today!
Art Hearts are also available at:
The Homeless Garden Project Store
Santa Cruz Art League