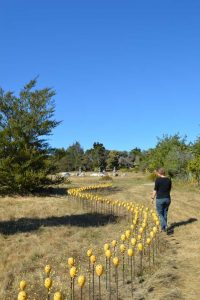 Many of you got to see, walk and experience the Umbel Series path since the exhibit Environmental Installations opened in late May and I've been so thrilled to hear how much you've enjoyed it. I had hoped that the piece would be on display until the end of the exhibit in November but unfortunately we've had some incidents of vandalism and the arboretum is also planning on some dirt work close to my installation, so I've chosen to remove it early from the exhibit. If you didn't get a chance to see the piece in person, the drone video of it will give you as close of an experience as possible to being there yourself.
Art in the Arboretum: Environmental Installations still has eight spectacular installations up until the close of the show November 17th and I encourage you to go explore the arboretum and discover these beautiful works.
So where have all the umbels gone?  Right now the flowers are in my studio and are available for sale via the online shop. Next week, the remaining unsold Umbel Series flowers will be making their own pilgrimage to south county. They will be assembled in a completely new formation at Sierra Azul Nursery in Watsonville as a part of the Sculpture IS: 2017 exhibit put on by the Pajaro Valley Art Gallery. Photos of the new installation will follow soon and I hope you get a chance to see it on display there as well.
Thank you for all the positivity that's surrounded this installation!