This Sunday is a day of art opportunities!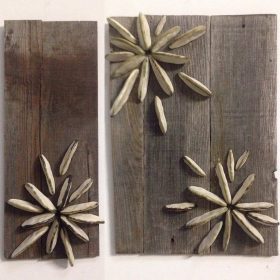 Take Aways: Art to Go at the PVAC Gallery opens from 2- 4 with a plethora of affordable artwork by local artists and A Pop Up Art Show at Santa Cruz Mountain Brewery from 4 – 8 will showcase 4 local artists selling creative gifts just in time for Valentines. You can find my work at both locations!
At PVAC, I will be showing 3 brand new pieces from my Lichen Series. These works are ceramic pieces mounted on reclaimed wood, inspired by mushroom spore patterns and designed to add a piece of nature to your wall space.
At A Pop Up Art Show, I will be showing small sculptures from my Nest Series, seed pods, Bone Series Necklaces and lots and lots of Art Hearts. I will be showing alongside the talented Nora Dougherty, Mariclare McKnight of Cadette and Claudia Stevens.
Join Us:
Take Aways: Art to Go
PVAC Gallery
37 Sudden St | Watsonville
Sunday 2 – 4
Pop Up Art Show
Santa Cruz Mountain Brewery
402 Ingalls St | Santa Cruz
Sunday 4 – 8