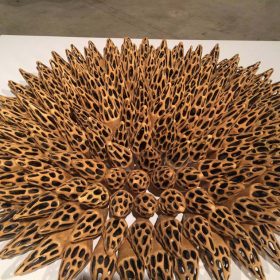 2017 NCECA Annual Exhibition:
The Evocative Garden
Disjecta Contemporary Art Center | Portland, OR
www.disjectaarts.org
March 8- April 1, 2017
Opening Reception March 23, 2017 6-9pm
JUROR/ CURATOR: Gail M. Brown, curator will select works for the exhibition in coordination with NCECA Exhibitions Director Leigh Taylor Mickelson.
ABOUT THE EVOCATIVE GARDEN
The National Council on Education for the Ceramic Arts is pleased to announce that in 2017, esteemed curator of contemporary craft Gail M. Brown will launch this new series with The Evocative Garden, an international juried and invitational exhibition exploring natural and cultivated worlds. Invited artists include Megan Bogonovich, Jess Riva Cooper, Kim Dickey, Linda Sormin and Dirk Staschke.
A breadth of implied and articulated dramas will be staged as a personally defined natural landscape or more formalized garden scenario. In works of ceramic sculpture, installation, object and vessel format, each participant will offer a new or recent work- some potent objects-as-metaphors, with sub-text and, others as choreographed scenes with figuration or the figure/s implied in a verdant location, in vocabularies from nuanced realism to personal symbolism. Each will be designed to reference an array of issues- nature's fragility and sustainability, the wild and the tame, life's appetites and dilemmas, conflict and resolution, the everlasting and the temporal- social and historic events, of the natural world and the human condition. Artists remind us that nature and the articulated garden, as context, stimulation and tactile allure, is a seductive, universal, ever present enticement.
~Gail M. Brown, Curator