In the spirit of revisiting older but still very relevant work, I'd like to take the time to showcase some of my series. Sometimes work comes and goes in the studio so quickly you don't have much time to live with it, but these pieces have graced the shelves of the studio for the better part of a year and I've gotten to spend time thinking about them and why I've made them.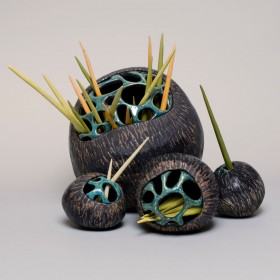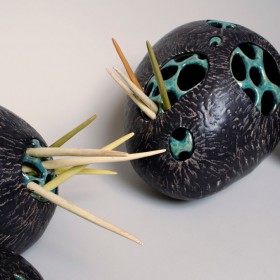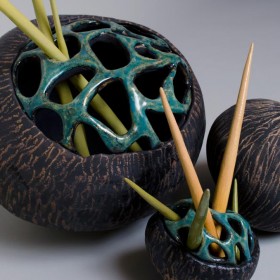 This series, named the seed pod series is a study in form and texture. The interesting part is that this is the second seed pod series I've made. The first group was made in 2006 and resemble their follow-up series but the older pieces focus more on the outside of the form while the newer ones focus more on the inner workings of a seed.  I am inspired by the forms of seed pods that I find while exploring the forest near my home studio. I love the way a seed will sprout roots and shoots; each part fragile and vulnerable but fiercely determined. I tried to explore this action in an abstract way and make them seem to be hatching an unidentified new life form. The surface of these pieces has been decorated using a wax resist process which enhances the depth of texture. I also like to play with the contrast of glossy and matte glazes on the surface of the clay as well as neutral tones next to flashy turquoises and lime greens. Each spiny shoot is fused in place by the glazing process in the kiln. These pieces are hand-built from high fired stoneware and each piece is original and unique.
If you'd like to add pieces from seed pod series to your collection, many are available in the shop.