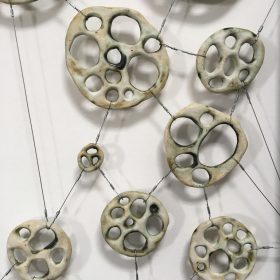 I'm so thrilled to have a brand new piece from my Bone Series Installation accepted into the 2017 California Sculpture SLAM at the San Luis Obispo Museum of Art. The piece was selected out of 195 total entries. The show includes 49 pieces in a variety of works in metal, wood, stone, glass, and fabric by both established and up-and-coming California sculptors.
September 1 – October 29, 2017
Opening reception Friday, September 1, 6–9pm
Awards will be announced at 7pm. Entry is free
On Saturday, September 2 at 12 PM, juror Brigette Micmacker of Sculpturesite Gallery will give an ARTalk and SLAM exhibition tour at the museum. The talk and tour are free and open to the public.
For more information about San Luis Obispo Museum of Art and the upcoming SLAM events, visit the museum website here.