Since all of California seems to be on fire including many of our favorite camping hiking spots, we've been spending A LOT more time in the studio these days. And I'm so grateful to have this space to work in when everything else is closed up.
I've been focused on two (sort of three) separate projects. One is building my Rock Candy Series really big. If you've been following along on my posts, you already know that this has been a challenge. I've been getting a ton of cracks along the seams and haven't been able to figure out why. But, the good news is that I'm making progress and getting one step closer to figuring these out.
Below is a photo of three pieces hanging on the wall of my studio. The two larger ones are about 2 feet across to give a sense of scale. The dark blue one is the only one that is actually successful with only one small crack in the bottom. The other two are covered in cracks, but I've realized the difference between how I built each of them and I'm understanding where the problems lie.
Of course the latest one to come out of the kiln had no cracks, but apparently had an air bubble in one wall, so that wall exploded during the bisque firing. That was disappointing to say the least but, I'm committed to seeing these challenges through to be able to make these pieces in mass. So stay tuned on this…
The other project I've been working on is creating my Bone Series | Medusa pieces. It's quite the dichotomy to go from making these huge heavy stoneware rock forms to super thin and fragile porcelain pieces. It feels good to have success in making these and is a good reminder that it took me a few years and a few residencies of focused time to be able to make them. I love how delicate and whimsical they are, especially when they bounce slightly as they balance on the wire tips. I'm hoping to make a large amount of these pieces and have them up in my online shop soon.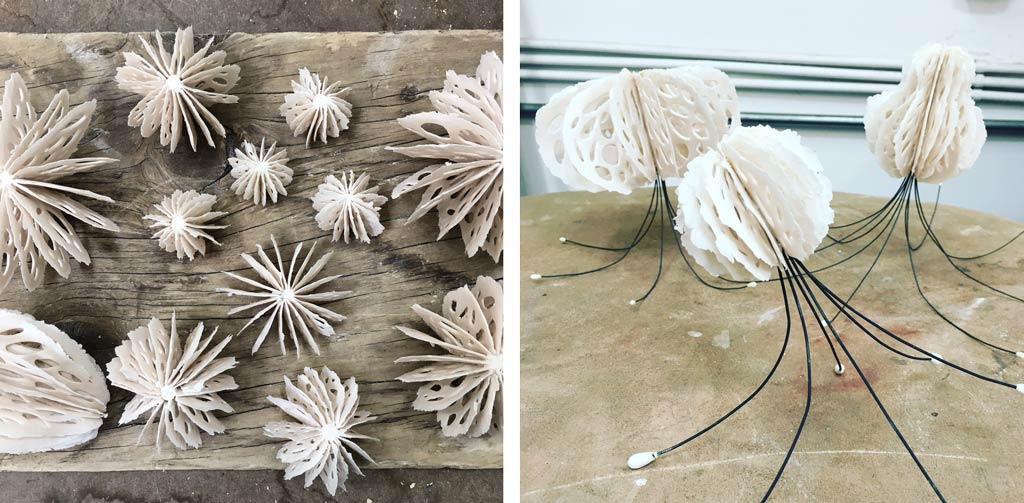 The third project I technically haven't started yet is embedding my flat porcelain pieces in resin. I consulted resin artists, I bought all my materials and was ready to start and then the ash started falling from the sky. We had so much debris in the air here that it didn't seem like a good idea to start pouring resin and risk getting little bits stuck in it. But now we're on our second day of blue skies and I'm hoping to start a pour in the next few days. Very excited about the potential with these pieces.