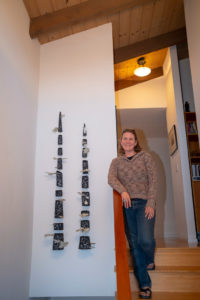 I'm so happy to share that two Lichen Series pieces have found the perfect forever home!
There was a lot of time and contemplation that went into this installation but it was so worth it, they really look perfect in this entry hallway. More pics will be up on the website soon!
About the Lichen Series:
The Lichen Series are vertical stalk shaped structures which have a variety of ceramic lichen inspired pieces emerging from and fused to them. This series play with ideas of death and regrowth, the power of negative space and the contrast of dark and light. These pieces are hand-built and hand-carved from high fired stoneware and each piece is original and unique. There are 7 more available for purchase.
photo credit: Michael Cinque Photography