These are just studio shots of my work-in-progress public art project, so please pardon the dirty walls! I wanted to share all of the progress I've made on this project, dare I say that I'm in the home stretch!?! …well, with the building and assembling part of the project anyway… there's still crating, shipping AND installing to go!
I start on the floor laying out the ceramic discs in a composition that I think will work best for the space, then I start connecting all the pieces together with the steel cables. Once I have a good idea of where the connection points to the wall will be, I will group a few tails together and assign them an anchor point. Then the paper template goes up on the studio wall and I place the anchors. For now I'm just using screws in the wall, the final installation will have some really nice eyebolts for anchor hardware. Then I start to hang the crazy web of parts, it's a little tricky since everything is moving and could break if they knock into each other.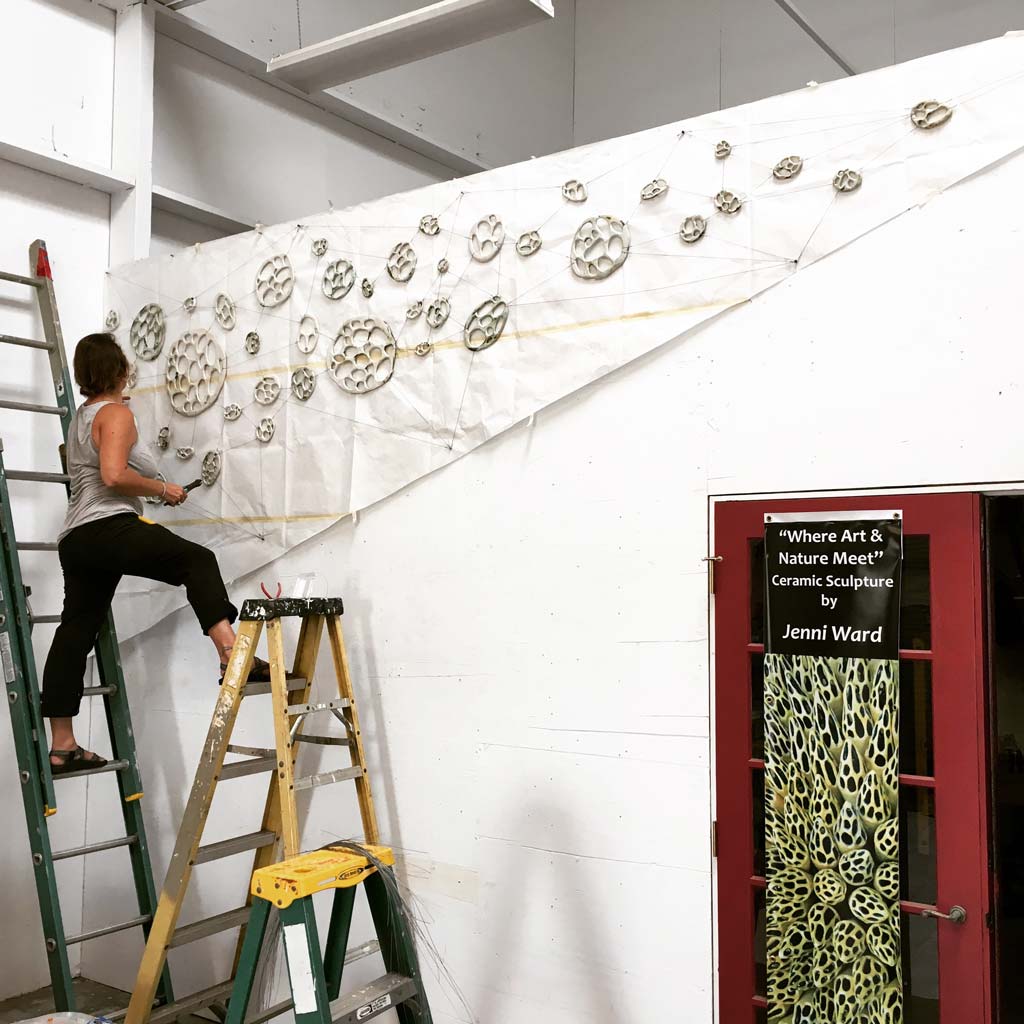 Next up is the editing process, adjusting of all the cables to be functional and visually dynamic. Gravity effects these installations in ways that I could never predict when assembling on the floor, so there are always cables to be cut and replaced. Once everything is connected, I usually just stare at them for awhile. I take the time to see if some part catches my eye and needs to be changed or if a piece needs to be added or subtracted. When I feel I've got them all in their happy places, I'll mark the template for the final anchor locations and remove the paper template to photograph them.

There are 6 installation locations for this project and I'm down to the finishing up the final one, but it's also the largest one at over 16′ wide, so it will be quite the challenge. Below are some images of the smaller ones that are completed and ready for packing up. Can't wait to see these all finish in their permanent home soon!