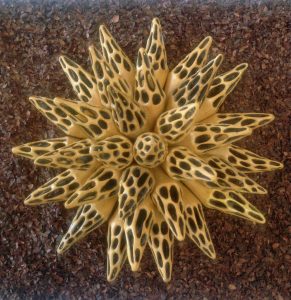 This dynamic installation from the Hive Series is now available for your home, garden or commercial space. There are 31 individual diamond shaped cone pieces with holes cut and carved into one half of them, each piece is nested into the previous layer to form the starburst composition. Each individual piece is approximately 9″ in length and 4″ wide and are 22″ x 22″ 9″ when assembled together. The Hives are 750. each with only 6 available!
All of the pieces are hand-built from high fired stoneware and is original and unique. Instructions on assembling your Hive will be included in your order- but don't worry it's super simple!
This piece qualifies for FREE SHIPPING!