Susun and I go way back…. like waaaayyy back. We met in the early 2000's when she first employed me to drive a 30 foot long trailer that was a mobile art classroom, into underserved communities of Watsonville and teach art classes out of it. That was an adventure in itself. But I also went on to teach through her art based preschool program and her after school art classes bringing ceramics into her programming. We've stayed in touch over the past 20 years as I went on to pursue my own studio art practice and so much of what I know about running an art business comes from her.
Her love of color is evident everywhere in her life, from every wall in her house, to her paintings, to her clothing. She inspires her students with her love of painting always finding clever ways to engage them into being creative. She has literally taught hundreds and hundreds of students in Santa Cruz County since she first opening Susun Gallery ArtSchool in 1987.
She moved to Hawaii a few years back and opened ArtSchool on the Beach, where you can sign up to paint on location with Susun and take home your painting as a souvenir of your time spent on the big island. Or if you're a local, you can join her in her studio to paint, draw, and sculpt.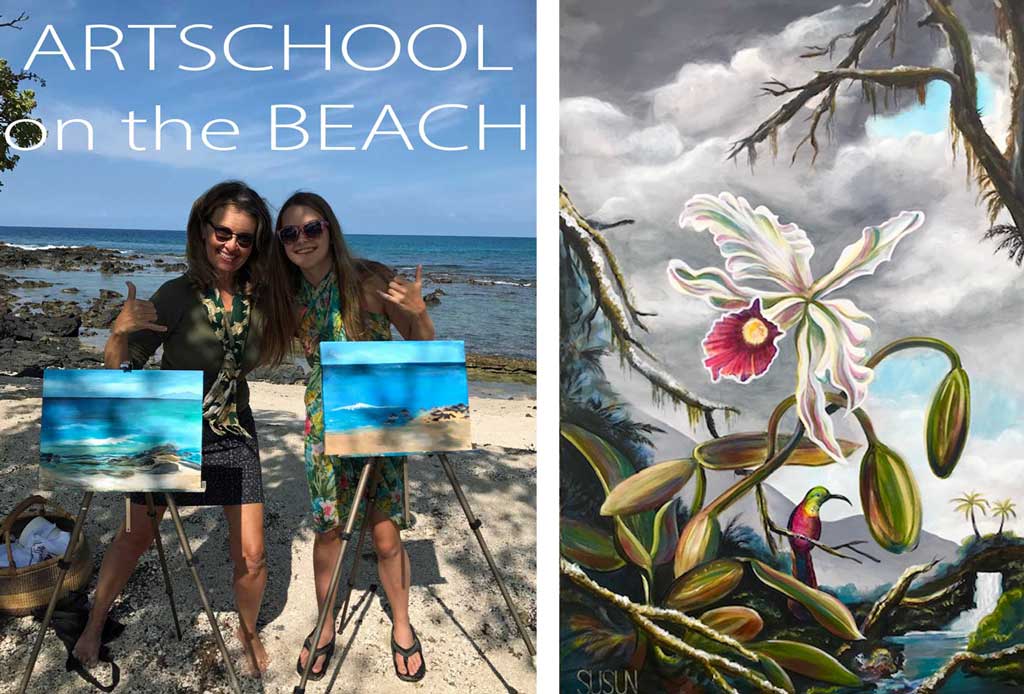 Always inspired by her surroundings, Susun explores every grain of sand, fills her paint cup from a waterfall, rubs red dirt and black sand into her paintings, and takes divine notes from nature. She channels the beauty of Hawaii through her paintbrush.
You can follow Susun on Instagram and Facebook or visit SusunGallery.com to sign up for an art class on the beach!
---
Artists Sharing Artists: is a series of posts where I share some of my favorite artists who are also inspired by nature and use their art to protect what they love. More artists coming soon…