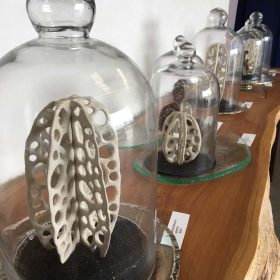 Have you been out to the new Craftbar in Watsonville yet?
Work from my Bone Series is still on display at the Annieglass Craftbar. When you're there, you can make crafts, drink local wine and of course BUY ART!
About The Bone Series:
The Bone Series is a series of work that is focused on the remains of a form. The pieces imply what is left after the flesh is gone, pieces that need to be reassembled to understand what once was. From small wearable pieces to large installations, this series explores all scales of structure.
Check out their Craftbar schedule of events here…