Happy New Year!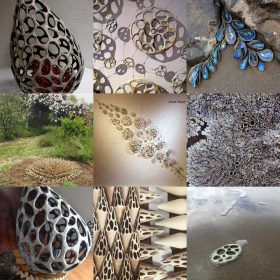 Taking a moment to look back on 2016, it has definitely been the year of change for us.
We made plans to change our entire lifestyle when we said goodbye to our home and studio in Aptos and build out a new studio in Santa Cruz. We bought a van that we are converting into a tiny home for ourselves and in doing so, we have downsized our possessions but we've also upsized our opportunities for adventure and travel.
We lost many loved ones this year but we also gained a new community of supportive artists and friends that surround us daily.
Most importantly this year, we learned to follow our hearts in all of our choices. So despite the political climate and the craziness that is our current world, 2016 was pretty good to us and we are grateful. Thank you all for being a part of it!
To recap a year of art making, I started off 2016 with two In the Field installations, one from the Lichen Series and one from the Tide Pool Series. These photoshoots also evolved into videos documenting the process and then the pieces were brought back to the studio for reconfiguration into smaller compositions. The Lichen Series also had a well received showing at the USCS Arboretum 'Sculpture' exhibit. The Tide Pool Series sold out quicker than any other series, while the Lichen Series is still coming together in my studio. I love how a year later, I can still be thinking about these concepts and watch them evolve in my studio.
I was also invited to be a part of the Clay & Glass exhibit in Healdsburg and I created a site specific installation from my Bone Series which I think turned out fantastic. And I was invited to create an indoor and outdoor installation to help celebrate the 10 year anniversary of the Sculpture IS: exhibition. Then after a spectacular summer of sculpture workshops for kids at the old studio, we packed up everything and moved to the new studio space on the westside. A ton of painting and cleaning and building in the space followed but we were able to launch the new space for Open Studios in October and have been plugging away with classes and art making ever since.
To top it off, being included in an issue of Ceramics Monthly and invited to participate in the NCECA exhibit for 2017 make me feel pretty good about this crazy art life I've chosen to live. Also, feeling lucky that my friends, family, art community and especially my husband Nate support me every step of the way.
Our plans for 2017 include lots of art making, lots of travel and lots of adventures- hope you are along for the ride!
-jenni & nate