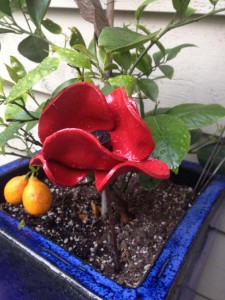 For a while, images of the Tower of London covered in red poppies swarmed the internet and social media, the installation was impressive from any standpoint. Blood Swept Lands and Seas of Red installation created by artists Paul Cummins and Tom Piper, included 888,246 ceramic poppies pouring out of a window in the Tower of London and progressively filled the Tower's famous moat, each poppy represented a British military fatality during the war. You can see images and learn more about this installation here…
When the installation was taken down, all of the poppy flowers were sold and the money raised was divided among charities. One of my amazing clay students was able to buy a few of the poppies before they were all sold and I was so lucky to receive one from her as a gift! How cool is that??
The packaging and documentation that came along with the flower was impressive as well. I just love this installation and I'm so excited to have a little bit of it at my studio now!