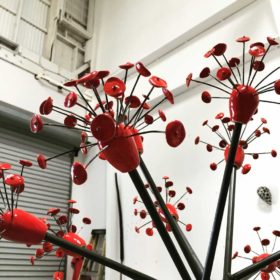 I was so happy to hear that my crate of artwork arrived safely in Mariestad Sweden!
One hurdle accomplished. Yay!
I leave for Sweden today and will be spending the following 10 days assembling and installing two large Umbel Flowers for the Off Season Art Gardening: Humle Park project. I'm so looking forward to meeting the team I've been planning with in person and exploring Sweden for the first time.
Hoping that it all comes together as planned and that the artwork looks great installed! Fingers crossed!
more to come soon….