The simple hollow cone shapes of the Hive Series, which have one end hand-carved with an abstract hole pattern, have taken many compositions over the years that I've worked with them. I have always loved the way that the pieces seem to interact and talk to each other which creates a dynamic energy in the finished work. The same pieces were used in the hanging installations as in the In the Field clusters but each of those compositions has a very different feel to it. I enjoy being able to play with placement of wall, pedestal, suspended, interior or exterior options as way of physically experimenting with the same body of work.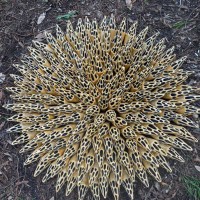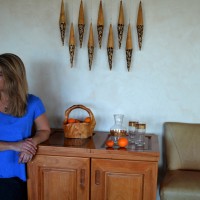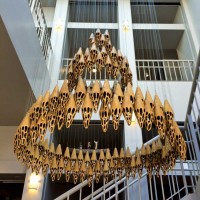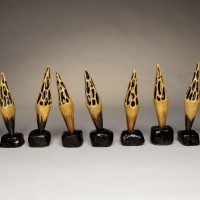 Conceptually, the Hive Series installations are an expression of the energy between opposing forces. In nature, a hive illustrates the natural balance between strength and fragility, curiosity and avoidance, security and vulnerability. In these arrangements, these concepts are explored using a geometric configuration of multiple ceramic forms. The combination of these elements create an abstract interpretation of a hive structure both physically and conceptually.
These pieces have been beautifully installed in large museum spaces, small galleries, private homes, gardens and a redwood forest. While many arrangments of the Hive Series pieces have already been sold, there are still over 200 parts waiting to find the right home. If you are interested in working with me to create an installation in your home, garden or commercial space, please contact me to discuss the options- I'd love to work with you!